Below are genuine comments made about our products by YOU, our customers...
"...Hi Gini, just to say thank you very much. My trousers arrived today. Thank you for such excellent service. Your only fault is that your trousers are of such excellent quality that they take a bit of wearing out, so it maybe a little while before ordering again. I do recommend you to everyone who needs moleskins..."
SM, Ferndown, Dorset
"...Dear Gini, just to let you know I received the two pairs of ladies trousers and I am very, very happy with them both . Both the quality and the fit are perfect. Doing business with your company has been a pleasure. A rare treat in this day and age ! Thank you..."
Stella A, Harwich, Essex
"...Hi Gini, just to let you know I've received the waistcoat. It's perfect, exactly what I was looking for and of excellent quality. Thanks again for your time and assistance with everything, will definitely be a returning customer..."
Ben Morris, West Midlands
"...Dear Gini, I felt I had to write to you to thank you for the beautiful moleskin waistcoat you made for my husband at quite short notice and with 'take a chance' measurements. You will be pleased to know it fitted him perfectly and he was absolutely delighted with it. I couldn't have bought him anything better. Excellent service and delivered exactly when you said it would be. Thank you so much. We'll know where to come when he wants another one..."
Lin H, Harlow, Essex
"...Dear Gini, thank you for sending the lovely towels, much nicer than the traditional black Aga towels..."
Liz Edgar, Leek Wootton, Warwickshire
"...Hi Gini, The breeks are great and have been christened. I thought you might like the photo for your publicity purposes. It was taken outside the Wig and Pen in Norwich.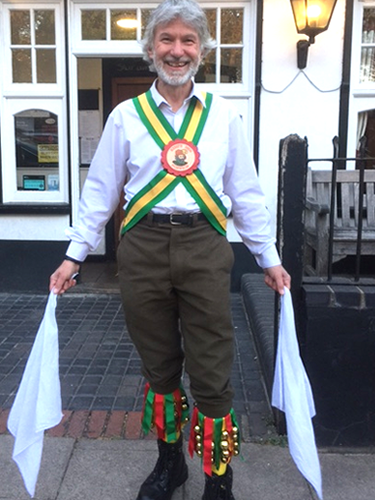 A very danceable pair of breeks, with an admirable service which I am unable to fault. Thank you very much..."
J Hooton, Norwich
"...Dear Gini, just to confirm that my waist coat has arrived and I am VERY pleased with it. I might twist my arm for a red one at some stage, but will certainly use you again. Yours is far superior to the one I had made to measure. One thing I like about your design is the inside pocket – very useful. And the other pockets are practical for putting stuff in – guitar capos, and picks and stuff in my case ! Keep up the good work, still think you are too trusting sending out waistcoats to try on ! It has been a pleasure doing business with you..."
John Honiwell, Braford
"...Hi Gini. Just wanted you to know that the navy trousers and olive breeks have arrived safely, and I am really delighted with them. They both fit perfectly and I shall christen the breeks when I start my seasons picking up on the grouse moor. Thank you so much, I will recommend you to everyone..!"
Anne Heading, Aberdeenshire
"...Dear Gini. I have been wearing my two moleskin waist coats (almost) daily for about 8 months. They are fabublous. The quality is exceptional, and I expect them to last for many years. I'll be back to order more items in due course, I can't recommend The Mole Hole too highly..!"
Steve Bush, Bristol
"...Hi Gini. Many thanks for the moleskin trousers I ordered for my partner, they were perfect and I am very pleased with the quality. I will be recommending you to others and will be ordering a pair for myself in the near future..."
John King, Leeds
"...Hello Gini. My waistcoat has arrived and it is absolutely lovely. The quality of the fabric, the richness of the colour and the construction is what I hoped it would be, I am more than satisfied. It arrived on Wednesday, and any time I found myself thinking 'it should be here by now', I reminded myself that it was going literally halfway around the world in less than two weeks. Not all that long ago it would have taken more than two months. How soon we forget. I prefer to use traditional techniques and tools in my profession. I look for quality and endurance over speed and flashiness, and now that I have seen your product, I know that you understand this too. Your waistcoat will be worn with pride for many years..."
Sincerely, A C Ashland, Oregon USA
"...Dear Gini, I have just received my 3rd pair of moleskin trousers, on time as promised. Service and attention to detail second to none. Quality of tailoring and fabric superb. Please give my thanks to your seamstresses, it is a pleasure to wear such well-made trousers. I am currently trying to convince my husband that he needs to replace his rather well warn, faithful old moleskins with a pair from you. Thanks again..."
Karen P Wallingford, Oxfordshire
"...Dear Gini, many thanks for my two new shirts, arrived when you said and perfect as ever. I will be ordering more next year..."
Mary Eveleigh - Parkgate, Cheshire
"...Bonjour, I received my packet yesterday and was very pleased with my two shirts. I wore the pink one at work today and all the women congratulated me. I'll probably buy some others next year. Once more thank you..."
Michel Senal - International visitor at The CLA Game Fair 
"...The trousers are wonderful, they have revolutionised my life. Even my Dad, from his hospital bed, commented on how good my trousers looked - I was wearing the beige ones at the time ! Thank you very much for your help..."
Kay Lance - Shirelow, Shropshire
"...In this age of instant everything it is just ever so refreshing to encounter people who are still willing to go the extra mile as it were. I know, of course, that there are still many individuals and companies across the globe that can, and do produce excellent quality goods.
It is my experience however, that most of these things are out of reach to all, but those with the deepest of pockets. The Mole Hole seems to have hit a perfect balance. Exceptional quality at a reasonable cost.
I thank you again for a fine quality garment and hopefully doing custom again in the future. My very best wishes to you and all the various and sundry moles..."
James Cumming - Barrie, Ontario, Canada
"...I have just tried on my lovely new moleskin waistcoat. It is beautiful! Thank you so much for this garment. It is everything I hoped it would be. The fabric, the colour, the fit, the attention to detail is just perfect. It arrived safe and sound. Not one tiny mole hair out of place.
This is a superb article and I am very pleased..."
James Cumming - Barrie, Ontario, Canada
WE ACCEPT THE FOLLOWING CREDIT/DEBIT CARDS